How does our ordering process work?
With our 4 step process we try to make online ordering as easy as possible. Below you can see an example of how the process looks when you place the order.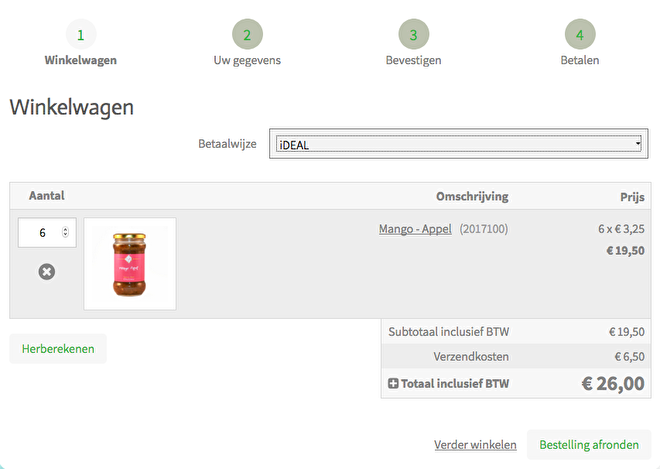 Step 1 - Here you will find all articles that you have placed in your shopping cart and want to order. The numbers, the amount to be paid and the payment methods are indicated here.
Step 2 - Here you can enter your details, such as invoice and the delivery address.
Step 3 - Confirm your order. If you see a mistake, you can go back a step.
Step 4 - Complete your order by payment.
When will it be delivered?
We strive to send it within 3 days. Because we depend on the availability of the raw materials, we will send you a message when it takes longer.
Can I also track my order?
As soon as the package is sent and scanned on the PostNL depot you can follow your package via track and trace. Scanning at a PostNL depot often happens in the evening.
Pay attention! If the supplier has carelessly handled the package and you see that the package is broken, do not sign.
You can refuse the package, which means the return transmitter. If you have the opportunity make a photo of the delivery and send it to us.
How long can the chutneys be stored?
A T.H.T. (at least shelf life) date. After opening we advise to keep the chutney in the refrigerator.
Are there so-called E numbers?
In the chutneys the permitted legal quantity of E211 (sodium benzoate) is used, so that we can make it possible to keep it longer.
Is information available for Allergens?
On the label of the chutney the familiar allergens are thickly printed. You can also find this information on the page Products when u click on the picture.